This week I started preparing for a presentation I'm giving to a large women's organization.  The main topic is depression and mental health.  This is a topic our society does not talk about enough.  We all struggle with feeling down and discouraged.  Sometimes that discouragement can be debilitating.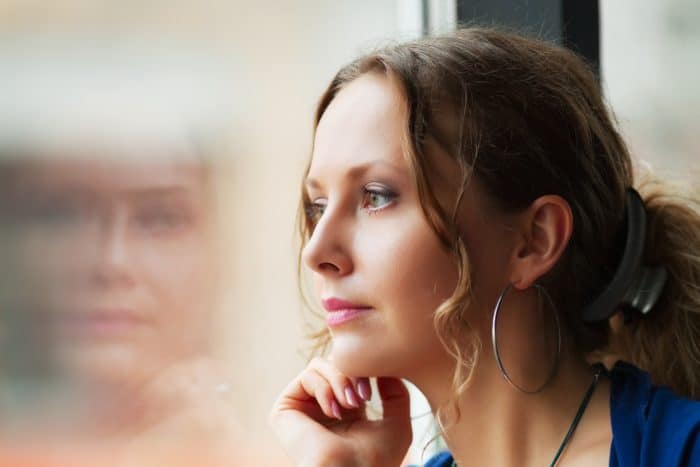 There are a couple of different schools of thought on how to deal with depression.  One of them is using cognitive behavioral therapy (CBT). If you can change your thoughts, you can change your feelings.  Recently, science has helped us understand that emotions, however, come before thoughts.  Think about when you are lying in bed at night and you hear a noise in the kitchen.  Immediately you feel afraid and alert.  Then your thoughts start to kick in.  You may come to the conclusion that there is an intruder in your house and you are not safe.  Or you might remind yourself that the dog likes to get into the garbage can after everyone is in bed.
We feel something first and then we come to certain conclusions.   This is why addressing thoughts without exploring emotions is not completely effective.
But I'm sure you have experienced the cycle that perpetuates after you feel a negative emotion.  Going back to the kitchen example–if you conclude there is an intruder in your house, those thoughts will lead to more fear, which will lead to more thoughts about how you will keep your family safe, which will in turn lead to even more fear.
We do the same thing when we feel sad or inadequate.  You might come to conclusions about why you are inadequate or unloveable and then those thoughts continue to feed into the deeply painful emotions.  Most of the time, those thoughts are irrational, but we often can't see it. That is where cognitive strategies can help.  It usually doesn't address the heart of the issue, but it can help things from spiraling out of control.
There are at least 11 ways our negative thoughts can get the best of us.
All or nothing thinking
With all or nothing thinking, things are black and white, right or wrong, good or bad.  There is no middle ground–no shades of gray.  If you or someone else is not 100% perfect 100% of the time, then you are a failure.
Overgeneralization
Do you ever find yourself using the terms, "always" or "never?"  I always get it wrong.  I never get invited to parties. My husband never pays attention to me.  It's easy to feel defeated when you overgeneralize other peoples' behavior or your own failures.
Mental Filter
Think of the purpose of a filter.  A filter is used to only let certain things pass through.  A mental filter is when you focus only on the negative comments or details and ignore all the positive ones.  For example, when your boss meets with you for an annual review and gives you significant praise and one suggestion for improvement.  You then obsess about that suggestion for weeks–completely dismissing all of the positive things he told you.
Dismissing the Positive
This is slightly different than the mental filter.  Dismissing the positive refers more to rejecting whole experiences insisting that they "don't count."  If you do well on something, you may walk away telling yourself it wasn't good enough or you just got lucky.
Jumping to Conclusions
One way we jump to conclusions is mind reading.  We assume we know the thoughts and intentions of other people.  I know everyone in the room was thinking I was a bad parent when my child started to misbehave.
Another way we jump to conclusions is fortune telling or negatively predicting the future when there are no facts to support our conclusions.   I'm going to go to this social event and no one will talk to me.  I'll be sitting alone in the corner all night with everyone thinking I'm a total loser. 
Catastrophizing
Catastrophizing is thinking something is significantly worse than it really is.  It is expecting disaster to strike.  We do this with current situations as well as future ones.  The builder made a mistake on our new home, now the structure of the house is not sound, it's going to cost us thousands of dollars to fix and even then I don't know if the home will be safe to live in.  
If I don't do well on this exam, I'll fail the class and then I'll never get into college.  
Emotional Reasoning
With emotionally reasoning, you assume that your emotions predict the truth.  So let's go back to our example of the noise in the kitchen.  If you heard a noise in the kitchen and feel afraid, emotional reasoning is when you assume that your fear means there absolutely is someone in the kitchen.  If you feel self-conscious of your weight and ugly, emotional reasoning is when you assume that because you feel that way, it must be true.  If you feel like a situation in unfair, it must mean that the other people don't like you and want to hurt you.
"Should" Statements
Should statements directed to ourselves lead to feelings of shame and inadequacy.
I should read to my kids every night.  The house should always be spotless if someone comes over.  I should always say yes if someone wants my help, even if I'm already stretched so thin.
Should statements towards other people often lead to anger and resentment.
I have told him a hundred times how towels should be folded and he still does it wrong.  
She should have dinner ready when I get home from work.  
Labeling
When things go wrong, we often make global assumptions about character rather than the situation.  Instead of I made a mistake, you may think, I'm so stupid.  I'm a loser husband.  I'm such an idiot.  We also attach labels to other people.  He is narcissistic.  She is selfish and shallow.  Attaching labels is never accurate and it leads to feeling angry and resentful.  It also leads to justifying your own inappropriate behavior towards that person.
Blame (self and other)
Self-blame is when you hold yourself responsible for a situation that is out of your control.  If we didn't leave the kids with a babysitter, our son would have never fallen off the bunk bed and broken his arm.  It's all my fault.  
Some people blame other people for their problems instead of accepting responsibility for their role in the situation. If my son had married someone different, our family would be closer.  
If he were a better husband, I wouldn't get so angry at the kids.  
Blame causes a lot of resentment on both sides.
Keeping score with God
Some people judge their worth by the blessings they feel they have received from God.  They also compare their own blessings and perceived level of righteousness to other people.  Sally has a good husband, maybe I wasn't righteous enough to deserve someone who would love me.  
I don't understand why she is depressed.  Maybe she just needs to have more faith.
This can be one of the hardest cognitive distortions to overcome because these ideas may be perpetuated in religious circles.  You may have been raised to believe that if you are good, you will only experience good things, but if you experience trials and difficulties, it must mean there is something wrong with you.   If only life were so simple.
The good news is that when you recognize these cognitive distortions, you can begin to change them.  This month, I encourage you to pay close attention to how often you jump to these irrational thoughts.  Write them down and try and correct the thought.
Begin by asking, "Is that true?"  Then play the other side of the debate and see if you can prove yourself wrong.
I should play with my kids all day or I am a bad mom.  
Correction:  Is that true?  
Yes!  If I were a good mom, I would play with my kids all the time.  
Is that really true?  Throughout the history of the world, how many mothers played with their children all day long?  What are the other things I do that positively impact my kids?  How does it hurt them to learn to play alone?
You'll probably find some overlap between the cognitive distortions.  Try and untangle them and see how you arrived at the thoughts that are keeping you stuck in negativity and self-doubt.
As you begin to work through these cognitive distortions, you will find greater peace and happiness.
For more suggestions on how to overcome cognitive distortions, see David Burns's bestselling book Feeling Good.