Last month I had the privilege of speaking about Medical Marriages at the national 2015 AMA Alliance Annual Meeting.  This was my first real experience with the alliance and I have to admit, it was different than I expected.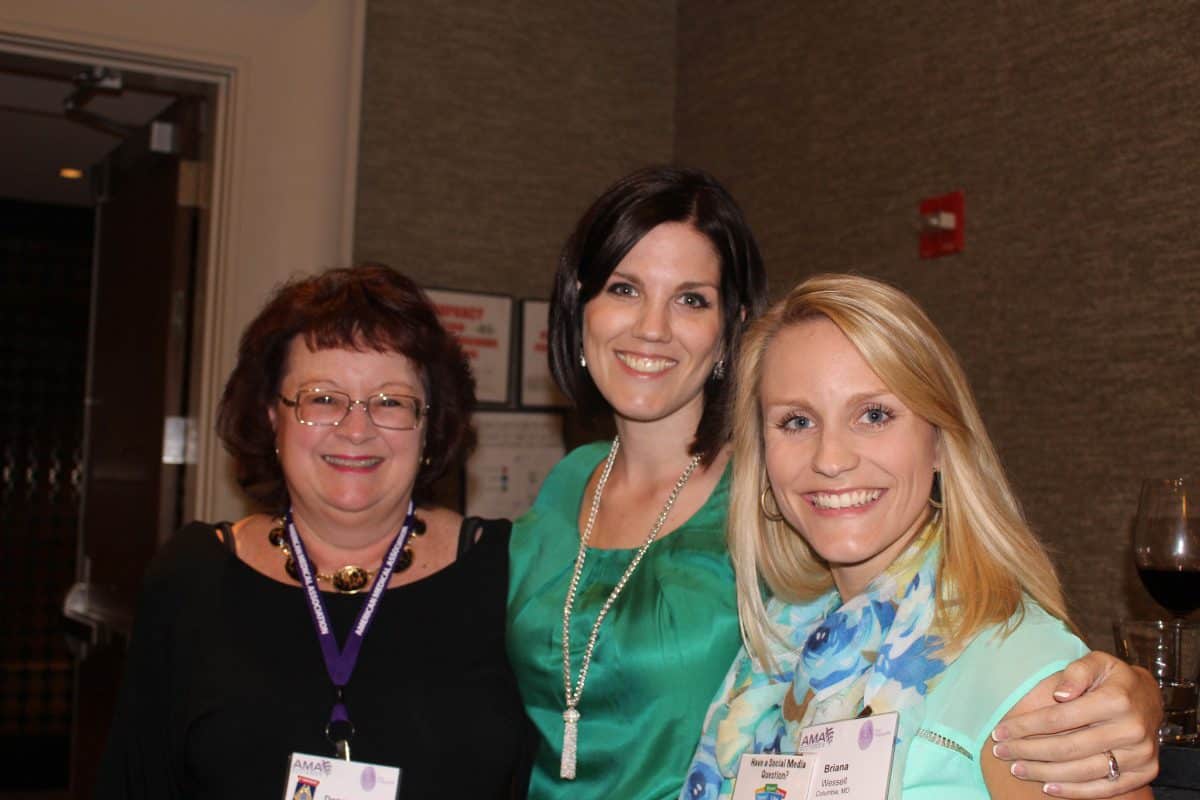 (Donna Rovito on the left and Briana Wessell on the right)
Let me back up a little bit.  My husband just started his PGY9 year.  That means he has been in medical training now for almost 13 years – four years of medical school, 5 years of residency, 2 years of research, and now finishing 2 years of fellowship.  Yet, in all that time, I had never heard about the AMA Alliance until Donna Rovito reached out to me a year ago about writing for Physician Family Blog and Magazine.
I was sitting in my office at home reading her email and called out to my husband in the other room – "Aaron, have you ever heard of the AMA Alliance?  I guess they have a national magazine for physician families and the editor has asked me to write for it.  Is the alliance the same as the AMA?"
I honestly had never heard of them and neither had my husband.  Then I was confused.  I've spent years working with physician families and even more years being a member of one.  I concluded they must not be very big if I have never heard of them.
Then I started researching them online and interacting with some of their leaders.  My main contact was Donna, but there were other women I spoke to or met with via online video conferencing.  They were all really nice, but it wasn't until I attended their annual meeting that I understood the true value of their organization.
Before I tell you the reasons I feel like every physician couple should join the AMA Alliance, I want you to know that no one at the alliance knows I am writing this. No one has asked me to promote them.  I am not an affiliate for them, I don't serve on any of their boards, and I don't receive any benefit from connecting you with their organization.  Additionally, as a doctor's wife, I am naturally leery of organizations that specifically market to physicians.  Sometimes I feel like an easy target. Can you relate?  I don't want to work with or be associated with an organization that only wants to benefit from the fact that I'm married to a doctor.  I can wholeheartedly attest to the fact that the Alliance is not like that.  They are physicians and physician spouses too.  They are looking to serve you, not benefit from you.
The Five Reasons You Should Join the AMA Alliance

1.   It demonstrates your allegiance to strong physician families.  
Whether we like it or not, our associations communicate what we value.  Remember your mother telling you to be careful who you hung out with during high school because people would make assumptions about you based on your associations?  The same is true throughout our life.  We demonstrate what matters most in our life by those we choose to associate with.  My number one reason for joining the alliance is because I realized their primary aim is to support physician families.  My primary aim is to support physician families – my own and those I serve.  That is what I value; thriving medical marriages and successful physician families.  I want to be associated with other organizations who value the same thing.  Membership in the alliance demonstrates your allegiance to strong physician families too.
2.   It gives you access to additional resources to keep your family strong.
The alliance offers support for physician couples by providing resources to keep your own medical marriage and family strong.  One way they do this is through the Physician Family Blog andThe Physician Family Magazine.  Both of these are available for free to anyone online – even if you are not a member.  Members, however, receive a print copy of the Magazine as well as a copy of their other publication, The Alliance in Motion, a couple of times a year.  The alliance also offers meetings and conferences designed to strengthen and support you as a physician spouse/couple.
3.   It gives you a voice towards change.  
Historically the main focus of the alliance was community health initiatives.  This is still important to the organization and I will talk more about that below, but things are shifting.  The alliance is now taking an active role in advocating for and passing initiatives to improve physician families.  They have organized a task force of medical student and resident spouses to help create change on an institutional level.  Can you imagine the impact it would have for medical schools and residency programs to focus on physician families?  I am super excited about this new focus.  Additionally, they have organized a task force of male physician partners to better serve the needs of female physicians and their families.
4.   It connects you with a community of remarkable people. 
As I sat with Donna at dinner the evening before my speech, she pointed out different men and women around us and told me some of their stories.  I was surprised by the diversity, the ability, and the resilience in that room.  As she introduced me to members, they were so kind and welcoming of me.   They were genuine and authentic and deeply committed to the mission of the alliance – to serve physician families.  I went back to my room that evening with a great love for the men and women I had just met and a deep admiration for their willingness to devote significant volunteer time to bless the lives of doctor's families and their communities.  On both a state and national level, the alliance offers you a place to connect with other people who understand the unique challenges of medical marriages and families.
 5.   It provides opportunities to give back. 
Each local alliance is working on their own initiatives to improve the health of their individual communities. Several states are helping pass legislation to improve immunization rates.  Texas is running a program where over 200,000 children have received a free bicycle helmet.   Other programs include collecting resources for local shelters and educating against violence, bullying, and cardiovascular disease.  These service opportunities are only there if you want to be apart of them.  They are not a mandatory part of membership.  There's a time and season for everything and if you are in a season where you just need to glean support from the alliance, that is what they are there for.  Even if you can't help right now, it's cool to be part of something that does so much good.
Remember, these organizations are run by physician spouses.  They know the financial challenges physician's in training face.  Their membership rates for students and residents/fellows is only $10 a year.  Joining the alliance happens on a national, state, and even local county level if you want.  Certainly check out what your state alliance is up to and consider joining there as well.
Are you already a member of the Alliance?  What is one benefit you have received by being a member of that organization?  Leave a comment below.